Customer case
Nemaska Lithium
Cooperation and partnership for future energy supply
80 years of complimentary experience in engineering technology and industrial production in electrochemistry have come together in a collaboration and partnership to address energy supply for the future.
In a collaborative partnership starting in 2013, NORAM Engineering and Constructors Ltd (Vancouver, Canada) and Permascand AB (Ljungaverk, Sweden) have jointly developed the NORSCAND® electrolyser, a novel multi-compartment electrolysis cell specifically designed for salt splitting of brines. One application of the cell  makes it possible to extract lithium hydroxide through electrochemistry instead of the traditional method of a metathesis reaction between lithium carbonate and calcium hydroxide.
"The NORSCAND® family of electrolysers evolved from an industry requirement for a scalable electrochemical platform. Permascand brought its extensive experience in the industrialization and large-scale manufacture of electrochemical products contributing to the novel process and scale-up designs proposed by NORAM," explains Erik Zimmerman, Product Manager at Permascand.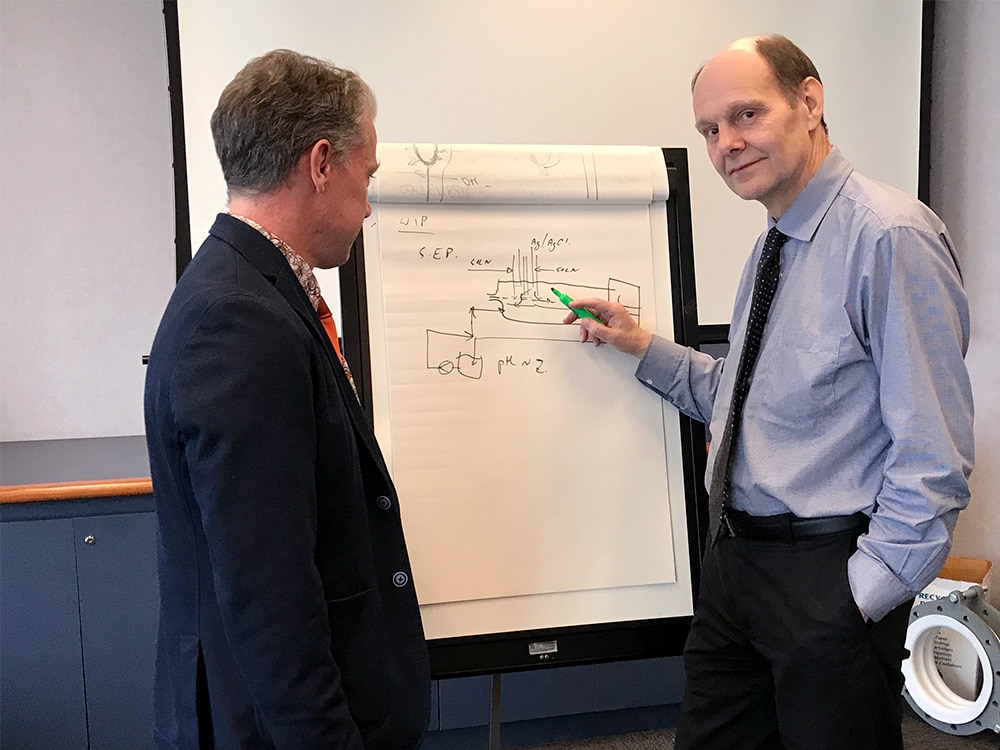 Erik Zimmerman (to the left), Product manager at Permascand in deep technical discussions with Clive Brereton, Vice President Technology at NORAM.
Discover Nemaska Lithium through the eyes of the team, from the Whabouchi mine site to the Shawinigan transformation plant.
"We succeeded in developing NORSCAND® due to an early understanding of our customers' challenges," says Tony Boyd,  President and COO at NORAM. "We have refined the process conditions, created brand new cell designs, and been solution-focused. The results have found expression in a versatile generation of NORSCAND® electrochemical cells
"NORAM and Permascand both have world-class engineers and a strong entrepreneurial spirit, that becomes a unique combination when we work with one another in concrete collaboration."
The scalable production of lithium is crucial when the world needs to switch from fossil fuels to electricity, given the central role played by lithium hydroxide  in the manufacturing of batteries for electric vehicles, mobile phones, and computers. One example is car manufacturer Tesla, which relies entirely on lithium batteries for all their vehicles.
One of the customers of NORSCAND® is Nemaska Lithium Inc. in Quebec, Canada, which will inaugurate the world's first industrial-scale NORSCAND® electrolyser for the production of high-grade lithium hydroxide at its Shawinigan, Quebec, electrochemical facility. Nemaska's Phase One Plant which will initially produce 610 tonnes of lithium hydroxide and lithium carbonate annually, is slated for expansion to a full-scale commercial facility.
"Nemaska Lithium has sold its production of the raw materials before even starting the plant," says Viktoria Lindstrand, Sales and Marketing Director at Permascand. "For Permascand and NORAM, the deal involves the delivery of an industrial scale NORSCAND® electrolyser by 2020, and after that a continuous need for service and maintenance."
"We are very pleased with the cooperation with NORAM," says Peter Lundström, CEO at Permascand. "The electrochemical cell NORSCAND® fits very well into Permascand's product strategy."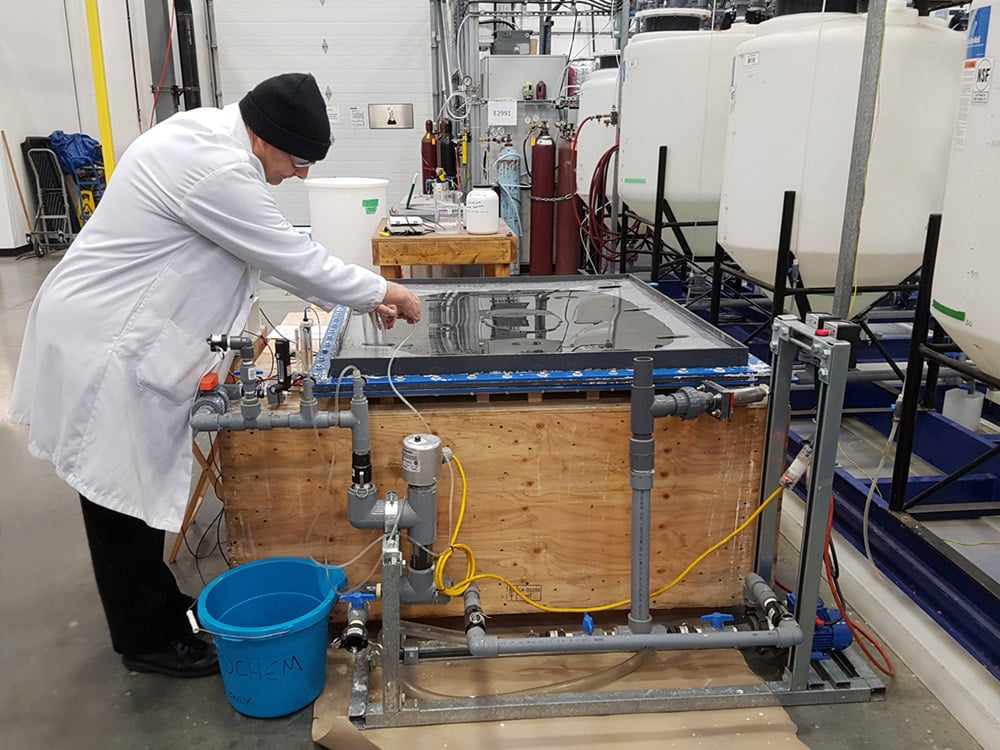 Clive Brereton in the laboratory in Vancouver, Canada, investigating and anticipating anode coating life time on the NORSCAND® cell.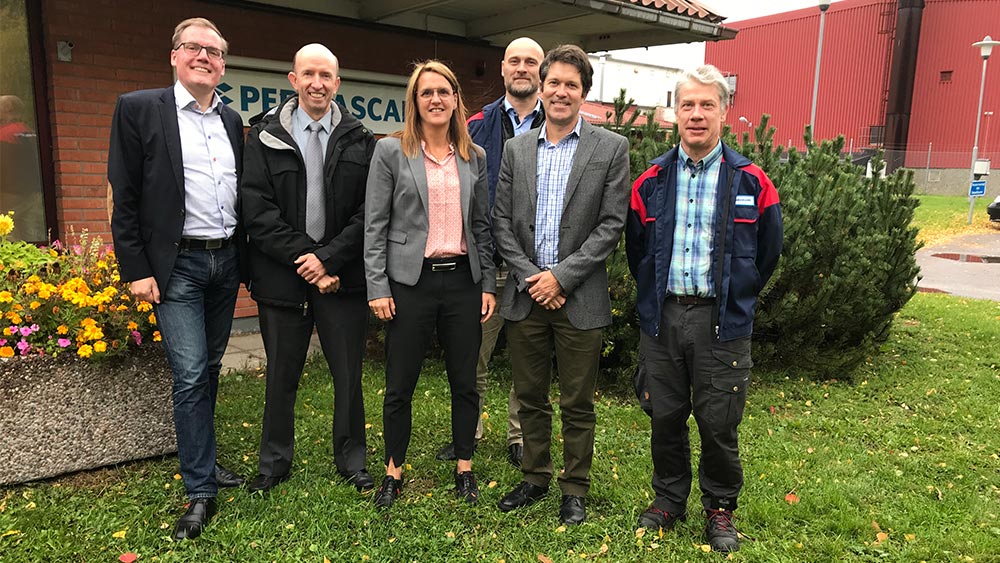 Fredrik Herlitz CTO, Permascand, Ira Wolff Director Business Development NORAM, Viktoria Lindstrand CCO, Permascand, Jens Michael Povlsen QHSE Manager, Permascand, Tony Boyd President and COO, NORAM and Erik Zimmerman R&D Manager, Permascand
Team from Noram and Permascand testing the function of Norscand® in Noram's laboratory in Canada. 
"NORAM and Permascand both have world-class engineers and a strong entrepreneurial spirit, that becomes a unique combination when we work with one another in concrete collaboration."