Our brands are defined by our pledge to improve efficiency and sustainability, as well as our passion for innovative thinking. Together these elements ensure that we achieve the best possible results for our customers, helping them to address their specific challenges.
As water purification is one of our priority segments, we have two separate brands active in this area. Our brands provide a focus for our know-how of ground breaking electrochemical technologies for water treatment.
Dimensionally stable anodes, also called Mixed metal oxide (MMO) anodes, is coated electrodes and one cornerstone of our business under the trade name DSA Permascand®. A world leading brand in catalytic coating.
DSA Permascand®
Dimensionally Stable Anodes – Electrodes with catalytic coating
Over 50 years' of manufacturing and application expertise is the fundament for continuous delivery of quality and highly performing Dimensionally Stable Anodes. DSA Permascand® is the trademark of Permascand electrodes with a mixed metal oxide (MMO) catalytic coating. 
PermaChlor®
A clean and safe process of producing hypochlorite
Our cells and systems can be used within Marine, Oil&Gas and Water makers. Our Buffer Systems are ready to run for Aqua parks, Swimming pools and Water makers.
Norscand®
Multi-compartment electrolysis cell
A novel multi-compartment electrolysis cell specifically designed for salt splitting of brines. One application of the cell makes it possible to extract lithium hydroxide through electrochemistry, enabling a contribution to Green Technology.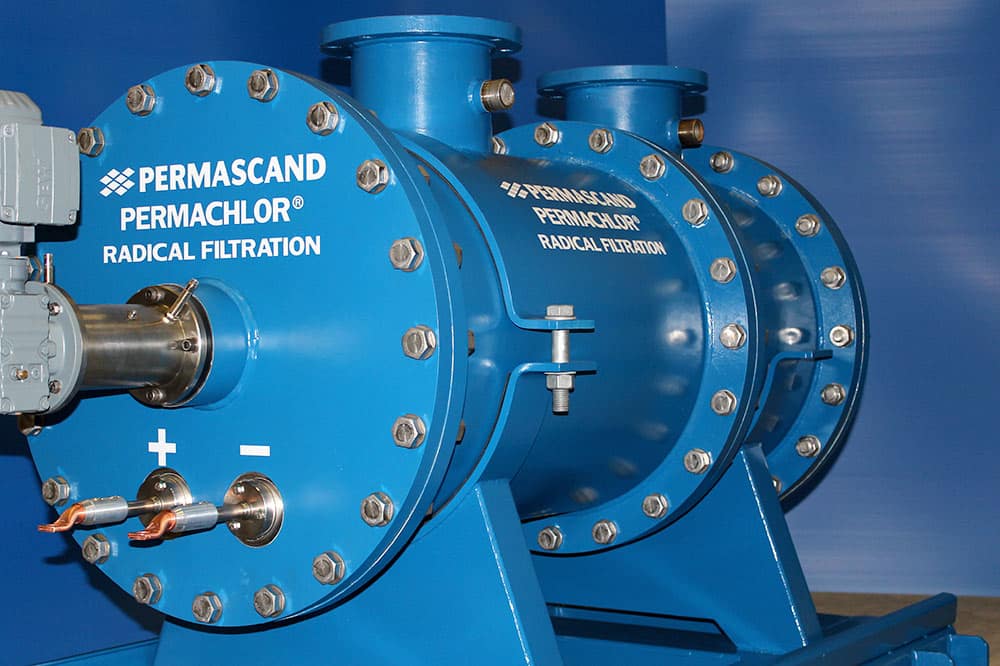 RadicalFiltration®
Compact and lightweight, ideal for installation in narrow areas.
All water flows through a single unit that combines filtering and electrochemical disinfection. This "One-Pass Single Unit" is less expensive and easy to use.